One Bucket at a Time
2018-12-19
Preface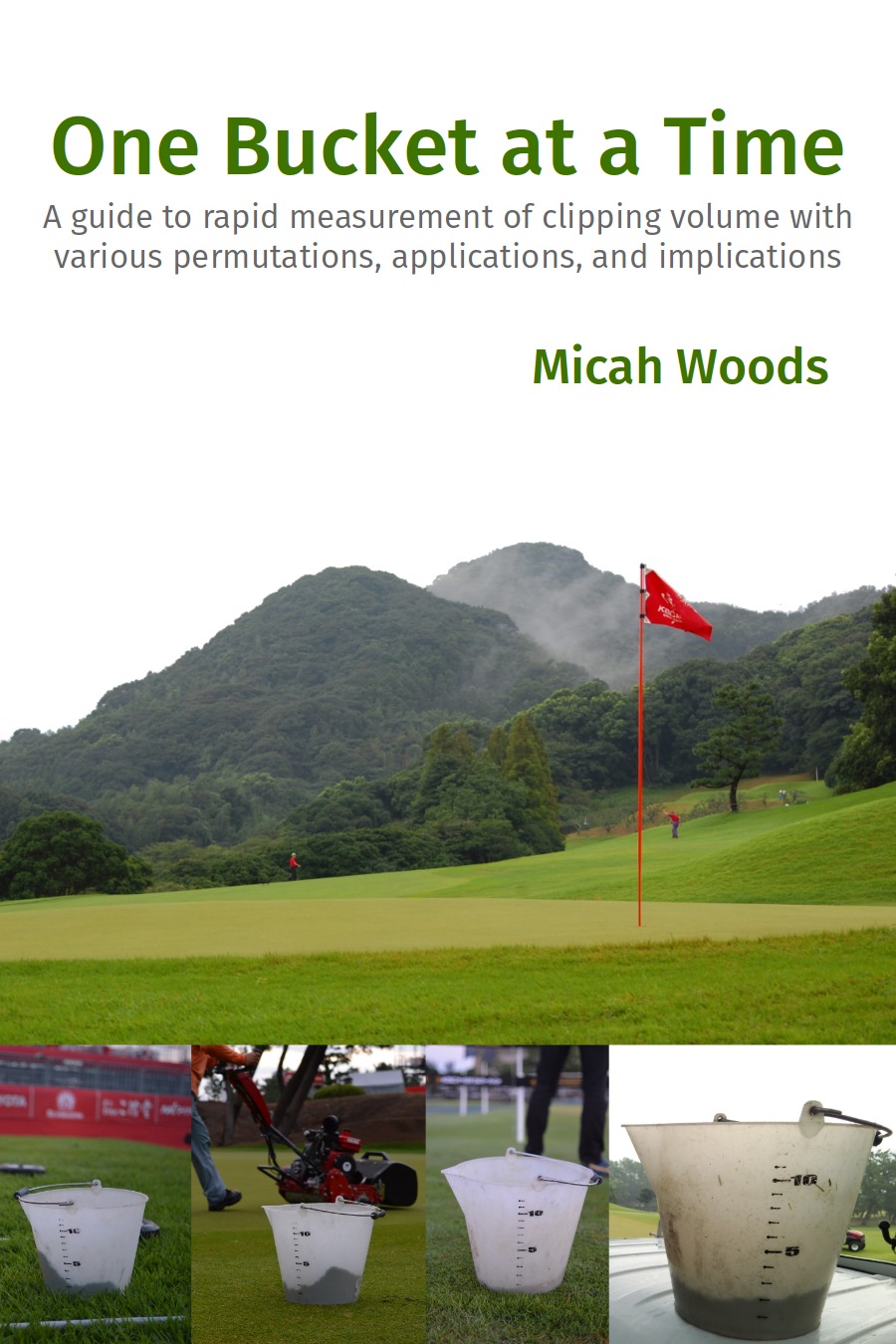 This is a collection of items about clipping volume of mown turf. Most of these were blog posts that I've written over the past five years, with an article and reports and some new pieces of information added here and there. I've also included an appendix with links to videos and slide sets about this topic.
I recognize that measuring clipping volume, or as I like to call it, ClipVol, isn't for everyone. There are a lot of ways to manage turf. I will admit to some surprise at just how useful some turf managers have found these measurements. Because of that, I've put this book together to have this information together in one place, available in multiple concise formats.
Micah Woods
December 2018
Prague
Why read this book?
You don't have to measure the clipping volume. But if you are interested in doing so, I've written quite a bit about this topic, and I've put the information together here so those who are interested can find it in one place.
Even if you aren't going to measure clipping volume, you might be intrigued at just how useful some turfgrass managers find this simple measurement. Here are a few quotes
"Simply put, the measurement of #clipvol has, in two seasons, become my most important greenkeeping metric."

— Chris Tritabaugh (https://twitter.com/ct_turf/status/1069219353210560512)
"#ClipVol is now the most essential piece of data I need to collect, it's easy to do and has helped save time and money in 2018."

— James Sergeant (https://twitter.com/lonegreenkeeper/status/1070711181822828545)
"it is already proving to be more valuable than I originally expected."

— Jason Haines (http://www.turfhacker.com/2017/06/growth-and-disease-rates.html)
"I think the revamping of the agronomic program focusing on MLSN, clipping volume measurements especially, watching growth potential, and minimizing some traditional cultural practices (resulting in surface disturbance) all seemed to really help in maintaining a better playing surface while significantly reducing material costs and labor."

— Eric Foerster, via email
"The whole process has just become part of our routine now. A few minutes daily for a massive amount of data over time seems like a great trade off for me! We lean heavily on the clip data to make N decisions in the summer and to make 'when to mow' decisions in the winter. To me operating without this information daily would be comparable to working without a weather forecast!"

— T-Jay Creamer, via email
When turfgrass managers are finding a rapid measure of clipping yield so useful, I thought this little book could serve as an introductory guide, and also as a reference, for those who are interested in this topic. Whether you are already measuring clipping volume, are interested in trying it, or don't intend to do this but want to see what it's all about, this book is for you.
Acknowledgements
I'd like to thank Andrew McDaniel from Keya GC for sharing so much data with me and for explaining to me so many times how this is done. I'd also like to thank a group of golf course superinendents from Canada, the United States, Iceland, Japan, and Vietnam for sharing clipping volume data with me over the past few years. And I'd like to thank Mr. Kihara and Mr. Seiyama from Nichino Ryokka for helping with an experiment about clipping volume and weight and nutrient content. Data and results from these sources are used throughout this book.